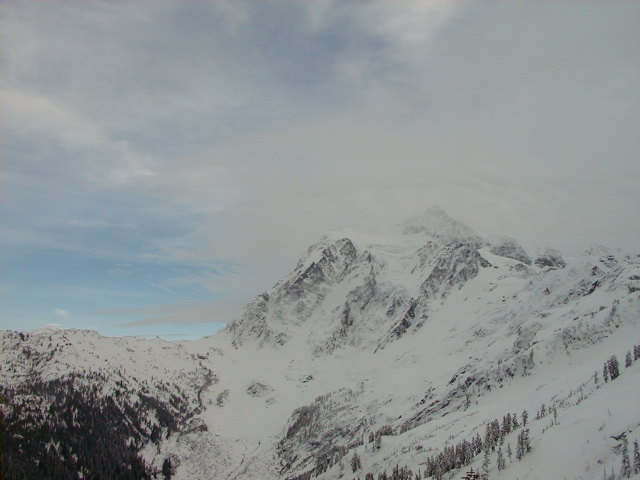 This photo is the original, unretouched shot that I took in early December, 1999 of Mt. Shuksan from the Shuksan Arm near the Mt. Baker Ski Area. In this area of the North Cascades are some of the most rugged and beautiful, and dangerous, mountains in the world. Dragons live here. The specific area in this photograph claimed 12 lives last year from avalanches. To date, 2 bodies have yet to be recovered. If you plan on skiing at Mt. Baker and cannot easily meet the requirments below, dont go out of bounds. Period. Not even 10 feet. Its no joke here, its real. None of the backcountry skiers out here who are prepared and aware of the dangers want to spend their afternoon scraping you off of a tree or probing for your carcass. Believe me. We report obviously unprepared skiers or skiers in dangerous areas to the ski patrol and the Whatcom County Sheriff Department.
If you leave the Mt. Baker Ski Area boundary into the backcountry or re-enter the Mt. Baker Ski Area from the backcountry, you must have all of the following or you will lose your ski area privileges:
1. Avalanche transceiver & demonstrated ability to use it
2. A partner
3. A shovel
4. Knowledge of the terrain & your route
5. Avalanche knowledge
6. Knowledge of local avalanche conditions, including...
• know this winter's snowpack layers
•know past three day's snowfall & type
•know that day's weather forecast (snowfall, temperature & visibility)
If you do want to ski in the backcountry...anywhere...then take it seriously. Take classes. Join The Mountaineers or REI and take their classes. Get educated. It doesnt guarantee you'll survive, but it gives you a hell of a lot better chance.
Dragons live in these beautiful, forbidding mountains and no one is immune from their icy breath. There is nowhere to run and nowhere to hide when the Dragon roars.
This photograph is dedicated to the memory of Alex Lowe. A climber, maybe the best ever, he was killed along with photographer Dave Bridges by an avalanche October 5th, 1999 on 29,291 foot Shishapangma in Tibet.


Memorial Fund Established: A fund has been established for Alex Lowe's three children. Those interested in making a donation can send to: Fund for the Children of Alex Lowe, Care of Norene Bancroft, US Bank, 104 East Main Street, Bozeman, Montana 59715